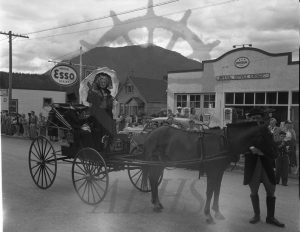 : 2000.035.30.7
: P4-7
:
: 1952-07-01
: 1950s, 208 Broadway Street W, 212 Broadway Street W, Broadway Street, Canada Day, garage, gas station, Hakeman's Imperial Service Garage, horse, Johnson; Ernest Cregg 'Ernie', Johnson; Kate (Bailey), Nakusp Diamond Jubilee, parade, and wagon
: Nakusp
:
1 b/w negative (13.4 cm x 10.1 cm)
:
Ernie Johnson and Kate Johnson (waving) dressed in historic costumes with horse and carriage, 1952 July 1st parade/Nakusp Diamond Jubilee, 1 July 1952. Hakeman's Imperial garage (212 Broadway Street W) in background. Photo by DeGraaf Portrait Studio (Derek DeGraaf), Vancouver.
Purchase Print