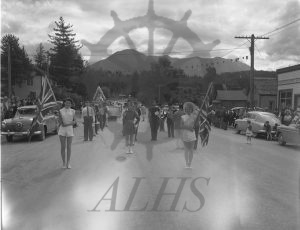 : 2000.035.30.3
: P4-3
:
: 1952-07-01
: 117 Broadway Street W, 1950s, 202 Broadway Street W, Broadway Street, Canada Day, Carswell; Lorna (Aalten), Hurry; Emily, marching band, music, Nakusp Brass Band, Nakusp Development District, Nakusp Diamond Jubilee, parade, and Pine Lodge
: Nakusp
:
1 b/w negative (13.4 cm x 10.1 cm)
:
Nakusp Brass Band marching in July 1st parade, Broadway Street at Edith Avenue, Nakusp, 1952. Emily Hurry (left) and Lorna Aalten (right), flagbearers. Pine Lodge seen at back left. Nakusp Development District office at right. Summit Peak in background. Photo by DeGraaf Portrait Studio (Derek DeGraaf), Vancouver.
Purchase Print