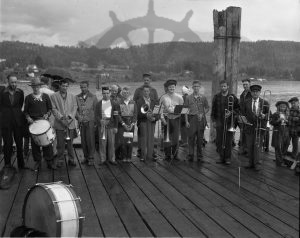 : 2000.035.30.15
: P4-15
:
: 1952-07-01
: 1950s, Bailey; Jack, Bedard; George, Canada Day, Fulkco; Leo, Government wharf (Nakusp), Highland; Wayne, Larson; Lars, music, Nakusp Brass Band, Nakusp Diamond Jubilee, Obayashi; Robbie, Oxenham; Bernard, Parent; Milton, Picard; Clarence, Stanley; Alan, Stanley; Ken, and Upper Arrow Lake
: Nakusp
:
1 b/w negative (12.6 cm x 10.0 cm)
:
Nakusp Brass Band posing on government wharf with instruments, Nakusp, 1 July 1952. L-R: Clarence Picard, Alan Stanley, Robbie Obayashi, George Bedard, Milt Parent, Wayne Highland, ?, Leo Fulkco, Lars Larson, Ken Stanley, Bernard Oxenham, ?, Jack Bailey. Photo by DeGraaf Portrait Studio (Derek DeGraaf), Vancouver.
Purchase Print