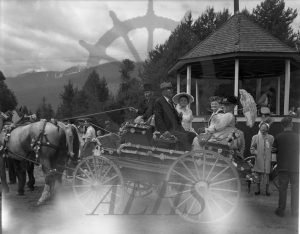 : 2000.035.30.10
: P4-10
:
: 1952-07-01
: 1950s, bandstand, Canada Day, Cowan; Elizabeth (Goupille), Crowell; Joe, Dunlop; Phil (Parent), horse, Johanson; Fred, Jordan-Williams; Blanche, Nakusp Diamond Jubilee, Nakusp Recreation Park, parade, Parent; Alice Sr., and wagon
: Nakusp
:
1 b/w negative (13.4 cm x 10.1 cm)
:
Group on back of parade float carriage in costume in front of bandstand, Nakusp Recreation Park, July 1st/Nakusp Diamond Jubilee celebrations, Nakusp, 1 July 1952. L-R: Fred Johanson, Joe Crowell, Elizabeth Cowan, Alice Parent, Blanche Jordan-Williams, Phil Parent. Photo by DeGraaf Portrait Studio (Derek DeGraaf), Vancouver.
Purchase Print