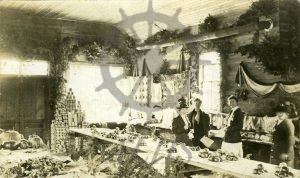 : 2000.035.25
:
:
: 1910-- - 1929--
: Arrow Lakes Historical Society
: 1910s, 401 Broadway Street W, Abriel office (401 Broadway Street W), Fowler; Ethel, Johnson; Kate (Bailey), McDougald; Sarah Maud (Muirhead), Nakusp Fall Fair, postcard, produce, and Wagstaff; Phoebe
: Nakusp
:
1 b/w photograph (13.9 cm x 8.5 cm)
:
Postcard, women gathered behind display table at Woodman's Hall (Thomas Abriel's office building, 401 Broadway Street W), Nakusp Fall Fair, ca. 1910s-1920s. L-R: Ethel Fowler, Mrs. Wagstaff, Maud McDougald, Kate Johnson (Mrs. E.C. Johnson). Postcard given by Maud McDougald to granddaughter Katherine McDougald. Inscription: 'My Dear Katherine/I hope you are feeling better/My Photo is on this card and the Judge on my right/Write and let me know how you are your loving Grandma'.
Purchase Print