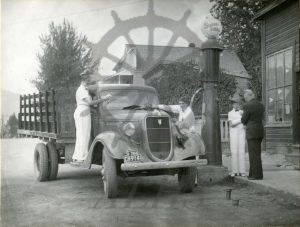 : 2000.035.21
: G5-12/G6-9A
:
: 1935-- - 1936--
: 1930s, 301 Broadway Street W, automobiles, Broadway Street, Buerge's Garage, garage, gas station, Horrey; Charlie, Rushton; Frank, Stansfield; Catherine 'Cathie' (Mauchline; Horrey), and Truss; Mary (Rushton; Argyle)
: Nakusp
:
1 b/w photograph (24.0 cm x 19.0 cm), 2 b/w negative (35 mm)
:
Rushtons and Horreys with company truck parked on Broadway Street in front of gas pump at Buerge's Garage (301 Broadway Street W), 1935-1936. L-R: Cathie Horrey, Charlie Horrey, Mary Rushton, Frank Rushton. Royal Cafe and A.E. Picard Shoe Repair buildings in background. Woodworking shop at left.
Purchase Print