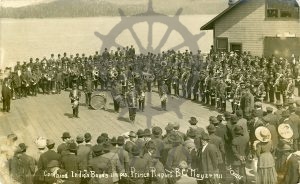 : 2000.024.25.4
:
:
: 1911-05-24
: Coffee
: 1910s, First Nations, music, Pacific Ocean, Port Simpson Concert Band, postcard, and Victoria Day
:
1 b/w postcard (13.9 cm x 8.5 cm)
:
Postcard showing Port Simpson Concert Band and other First Nations musicians playing on wharf, Prince Rupert, Victoria Day 24 May 1911. Photo by Coffee. Postcard addressed to Lance Porter of Burton and postmarked 4 January 1912. Inscription: 'Dearest Lance. I was very pleased with the card you sent me. Wish I could give you a kiss. Lance is [illegible] house anyway. I like the picture shows. If you come up here, I will get Daddy to put you in jail. Don't like you, you chew bacca. Dolly.' Postcard via Donnette Olsen.
Purchase Print