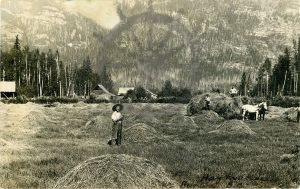 : 2000.024.25.1
:
:
: 1912-09-22
: 1910s, farms, haystack/hay bale, horse, Porter; Lancelot 'Lance', and postcard
: Burton
:
1 b/w postcard (13.5 cm x 8.8 cm)
:
Postcard showing men haying on farm, Burton, 1912. Lance Porter posing at centre. Postcard addressed to Mrs. G.S. Adams, Aberdeen, Nova Scotia from Burton City, 22 September 1912. Inscription: 'Dear Friend: I purely must be a blunderer, neer thought to ask for your Street address, so must superscribe as above. So if you get this, don't forget your C/o. Am well, busy hay making. Yours, Lance Porter.' Postcard via Donnette Olsen.
Purchase Print