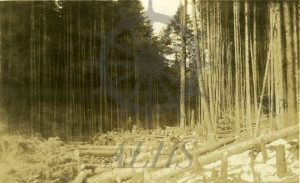 : 2000.019.12
:
:
: 1916-- - 1919--
: Arrow Lakes Historical Society
: 1910s, forest, Herridge; Herbert Wilfred 'Bert', Highway 6, and road construction
:
1 b/w photograph (13.9 cm x 8.7 cm)
:
Bert Herridge posing amidst slashed right-of-way in forest during construction of highway between Nakusp and New Denver, Summit Lake, ca. late 1910s. Inscription on rear: 'Boy oh boy are those trees thick. There was a forest fire thru here about 15 miles wide & 20 miles long & all these trees stripped of foliage of course. Figure is Bert Herridge who was road foreman on this slash'.
Purchase Print