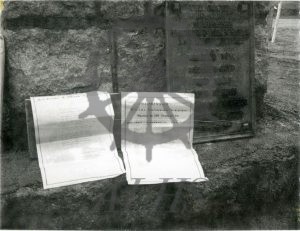 : 2000.012.5
:
:
: 1967-10-
: BC Hydro
: BC Hydro
: 1960s, BC Hydro, cenotaph, Edgewood Community Park, and Royal Canadian Legion Branch 203
: Edgewood
:
1 b/w photograph (10.8 cm x 8.6 cm)
:
Agreement between BC Hydro and Royal Canadian Legion Branch No. 203 (Edgewood) regarding the relocation of the Edgewood cenotaph laid out on side of cenotaph in its now location in Edgewood Community Park, new Edgewood, October 1967. The cenotaph had been removed by BC Hydro from the old Edgewood townsite to escape flooded from the Hugh Keenleyside Dam. Each stone of the cenotaph was individually numbered, and the cenotaph was reassembled in the new townsite's park.
Purchase Print