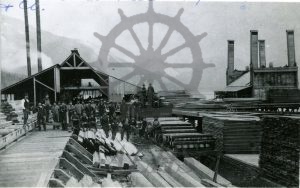 : 2000.007.11
:
:
: 1897--
: 1890s, Anthony; Tom, forestry, Genelle; Jack, Hayward; Bill, lumber, Malcolm; John, P. Genelle & Co., sawmill, and Yale-Columbia Lumber Co.
: Nakusp
:
1 b/w photograph (14.7 cm x 8.8 cm)
:
Group portrait of workers in Genelle Bros. (later Yale-Columbia Lumber Co.) mill yard, Nakusp, 1897. Jack Genelle at back left, Tom Anthony back row 2nd from left, Bill Hayward (sawyer) front row 5th from left, John Malcolm (foreman) back row 2nd from right. Notes on rear: 'Peter Genelle & Co Saw Mill 1897. 45 men employed. (First mill in Nakusp) by 1905 Nakusp had a population of 300. Payroll was $12,000 per month'.
Purchase Print