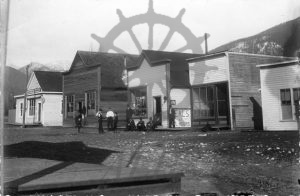 : 2000.004.4
: D33-6/E23-16
:
: 1911-- - 1915--
: Jean Takkinen (Estate of Ed Vipond) and Kate Johnson
: Amos Burling and J.G. Craft
: 1910s, bank, barber shop, Canadian Imperial Bank of Commerce, pool/billiards room, restaurant, Slocan Avenue, and The Recess (pool hall/barber shop)
: Nakusp
:
1 b/w photograph (16.5 cm x 10.9 cm), 2 b/w negatives (35 mm)
:
Group gathered on sidewalk, east side of 80 block, Slocan Avenue South, Nakusp, 1911 (according to notes with Johnson negative) or 1914-1915 (according to Craft print). Buildings L-R: Canadian Imperial Bank of Commerce, Eugene Leveque's barber shop and pool hall, Chinese cafe (originally Leveque's first barber shop), former store. Leveque's pool hall closed for 6 months in 1920 when he went to Winnipeg. Print via J. G. Craft, South Slocan.
Purchase Print