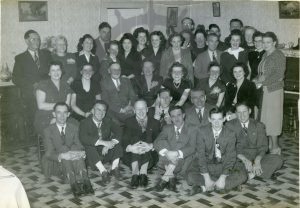 : 2000.003.4
:
:
: 1950-02-01 - --
: 1950s, Annas; Peggy, Barrow; Bill, Barrow; Edith (Pratt), Barrow; Merril, Barrow; Vicky (Obayashi), Berard; Dan, Couling; E., Couling; Herb, Crowe; Lloyd, Desrochers; Fred, Fellows; Hazel (Herridge; Ward), Harper; Orville, Harper; Vera (Hummon), Hiltz; Alice (Parent), Hiltz; Harvard, Horrey; Charlie, hotel, Hurry; Florence 'Flo' (Dilley), Hurry; Peter, Kirk; Luella May Anderson 'Andy', Leland Hotel, McCusker; Don, McCusker; Gladys 'Gay' (Barrow), Morehouse; Evelyn, Morehouse; Jerry, Morin; Yvonne (Bedard), Munn; Everett Mossom 'Ed', Munn; Hope (Taylor), Parent; Della (Leveque), Parent; Joseph Jr., Penny; B., Penny; Mrs., Stansfield; Catherine 'Cathie' (Mauchline; Horrey), Ward; Betty, Ward; Grace, Ward; Larry, and wedding anniversary
: Nakusp
:
1 b/w photograph (17.8 cm x 12.6 cm)
:
Large group photo in Leland Hotel during celebration of Merril Barrow & Edith Barrow's 25th wedding anniversary, 1 February 1950, Nakusp. FRONT (l-r):Jerry Morehouse, Don McCusker, Harvard Hiltz, Lloyd Crowe, Bill Barrow, Herb Couling. MID-FRONT RIGHT: B. Penny, Ed Munn. 2ND: Mrs. Morehouse, Gay Barrow, Merril Barrow, Edith Barrow, Mrs. Penny, Della Parent, E. Couling. 3RD: Dan Berard, Hope Munn, Yvonne Bedard, Doreen Parent, Vicky Obayashi, Betty Ward, Peggy Annas, Alice Hiltz, Flo Hurry, Catherine Horrey, Joe Parent, Grace Ward, Hazel Herridge, Andy Kirk, Harper. TOP: Orville Harper, Pete Hurry, Charlie Horrey, Larry Ward.
Purchase Print