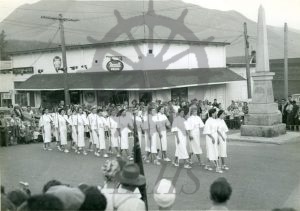 : 2000.003.20
:
:
: 1952-07-01
: 1950s, Anton; Bea (Steenhoff), Beingessner; Laura (Robson), Broadway Street, Canada Day, cenotaph, Edwards Block, Henke; Eva (Leverington), Hurry; Ethane (Gunn; Masson), Jordan; Norma, Jordan; Olive, McMullen; Betty, Morehouse; Evelyn, Nakusp cenotaph, Nakusp Diamond Jubilee, Nakusp Drug Store/Head's Pharmacy, parade, pharmacy, Pythian Sisters, Ralph Islip/Broadway Store, Shaw; Margaret (Olson), Slocan Avenue, and Stansfield; Catherine 'Cathie' (Mauchline; Horrey)
: Nakusp
:
1 b/w photograph (18.0 cm x 12.7 cm)
:
Pythian Sisters marching in July 1st parade, Nakusp, 1 July 1952, in front of Nakusp Drug Store (Edwards Block, 320 Broadway Street W) and cenotaph, corner of Broadway Street & Slocan Avenue. R-L: Cathy Horrey, Norma Jordan, Ethane Hurry, Olive Jordan, ?, Laura Beingessner, ?, Eva Henke, ?, Marg Olsen, Bea Steenhoff, Evelyn Morehouse, Betty McMullen. Notes on rear: 'Della Parent assembled & played piano'. Photo by Ichiro Shiino. Photo via McMullen family, Burton.
Purchase Print