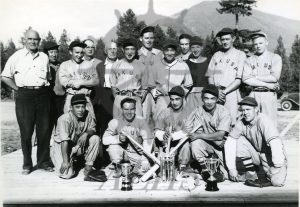 : 2000.003.13
:
:
: 1951-- - --
: 1950s, Armstrong; Roy, baseball, Bouvette; Don, Desrochers; Ed, Desrochers; Fred, Desrochers; Joe, Harris; Gavin, Hoshizaki; Kazuo 'Kaz', Inouye; John, Marchessault; George, Nakusp baseball team, Nakusp Recreation Park, Natsuhara; Fats, Oude Steenhoff; Albertus Antonius 'Tony', Shaw; Neil, trophy, Walsh; E., West; Mel, Yanagisawa; Otto, Yano; Isamu 'Sam', and Yoshida; Barin
: Nakusp
:
1 b/w photograph (17.6 cm x 12.7 cm)
:
1951 Nakusp baseball team group portrait with the Wildlife Coal Cup, Big Bend Trophy (renamed the Sid Leary Memorial Trophy), and Dick Fowler Trophy. TOP(l-r): Tony Steenhoff (president), Fats Natsuhara (treasurer), Ed Desrochers (right field), Roy Armstrong, Joe Desrochers, Johnny Inouye (second base), Gavin Harris (first base), Otto Yanagisawa (catcher/captain), E. Walsh, Mel West (utility), George Marchessault (pitcher), Don Bouvette (utility). BOT: Barin Yoshida (infield), Fred Desrochers (shortstop), Sam Yano (pitcher), Kaz Hoshizaki (third base), Neil Shaw (center field).
Purchase Print