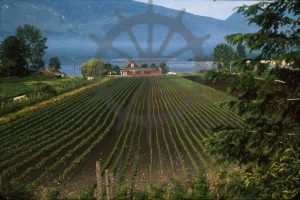 : 1999.019.443
: M27-10
:
: 1967-06-
: 1960s, barn, farms, Spicer Farm, and Upper Arrow Lake
: Nakusp
:
1 colour slide (35 mm)
:
Field at Spicer Farm with farm building/barn in background, June 1967. The house was built by Clem & Phil Buesnel. Notes from HistoricPlaces.ca, 2012: "Spicer's Farm is valued for its contribution to the economic life of Nakusp since 1904. In that year Sam Henry, who had a laundry on Bay Street, bought two large lots east of Nelson Avenue, where he expanded the market garden operation he had started in 1893. Henry supplied the steamboats and local residents with vegetables and fruit. He employed twenty Chinese workers. After Henry died in 1912, his widow ran the business for ten years. It was then bought by Phil and Clem Buesnel, brothers from the Isle of Wight, who operated the farm as the "Bay View Dairy" until 1948. In 1948 the farm was bought by Chris Spicer, whose daughter Janet continues to run the business as an organic farm."
Purchase Print