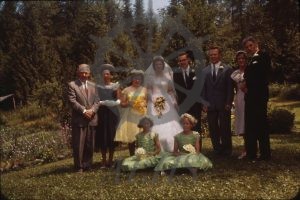 : 1999.019.305
: M19-17
:
: 1960-07-16
: 1960s, Lake; Barbara (Waterfield), Lake; Harold, Lake; Richard, Lake; Robert, Schofield; Jill, Spicer; Crystal, Spicer; Janet, Waterfield; Donald, Waterfield; Freda (Brown), and wedding
: Nakusp
:
1 colour slide (35 mm)
:
Wedding party of Barbara Waterfield and Robert Lake, St. Mark's Anglican Church, 500 block of Broadway Street West, Nakusp, 16 July 1960. TOP (L-R): Harold Lake, Mrs. Lake, Jill Schofield, Barbara Lake (Barbara Waterfield), Robert Lake, Richard Lake, Freda Waterfield, Don Waterfield. BOT: Crystal Spicer, Janet Spicer.
Purchase Print