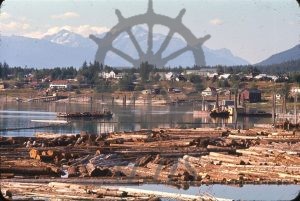 : 1999.019.104
: M7-10
:
: 1958-08-29
: 1950s, barge, Beau Vista Motel, Canadian Pacific Railway, Canadian Pacific Railway workshop, Celgar, forestry, Government wharf (Nakusp), hotel, Leland Hotel, log booms, Mount Burnham, Nakusp & Slocan Railway, Rothwell Bay, Rothwell Bay wharves (original), and Upper Arrow Lake
: Nakusp
:
1 colour slide (35 mm)
:
Celgar log booms, Rothwell Bay, Upper Arrow Lake, Nakusp, 29 August [1958?]. Beau Vista Motel above waterfront and wharf at left. Leland Hotel at centre. Canadian Pacific Railway workshop and shipyard ways at right.
Purchase Print