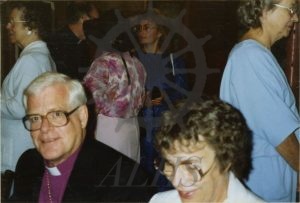 : 1999.009.1.51
:
:
: 1988-09-11
: 1980s, Berry; J., Berry; Rt. Rev. Robert Edward Fraser, Bond; Rev. Ken, church, Jackson; Adeline (Boothby), Johnson; Mary [Anglican Church], Penner; Penny (Jackson), Rushton; Betty (Bell), and St. Mark's Anglican Church (1967-present)
: Nakusp
:
1 colour photograph (14.9 cm x 10.1 cm)
:
Attendees, 90th anniversary celebration of St. Mark's Anglican Church, 205 4th Street NW, Nakusp, 11 September 1988. TOP (l-r): Betty Rushton, Rev. Ken Bond, Adeline Jackson, Penny Penner, Mary Johnson. BOT: Rt. Rev., R.E.F. Berry (Bishop of Kootenay), J. Berry. Photo by Doris Petrie and given to compilers Doris Petrie and Joyce Jupp for their scrapbook A History of St. Mark's Nakusp 100 Years, published July 1998.
Purchase Print