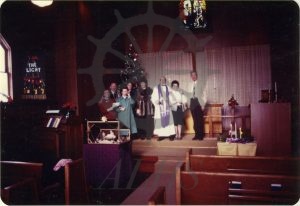 : 1999.009.1.44
:
:
: 1983-- - 1985--
: 1980s, altar, church, Jupp; Bill, Jupp; Joyce (Butlin), mar, Marshall; Ken, Marshall; Marilyn, Marshall; Nancy 'Nan', Rushton; Betty (Bell), Speight; Dilys, Speight; Rev. Peter, and St. Mark's Anglican Church (1967-2018)
: Nakusp
:
1 colour photograph (12.9 cm x 8.8 cm)
:
Group posing at altar, St. Mark's Anglican Church, 205 4th Street NW, Nakusp, 1983-1985. L-R: Dilys Speight, Ken Marshall, Betty Rushton, Nan Marshall, Marilyn Marshall, Reverend Peter Speight, Joyce Jupp, Bill Jupp. Photo by Doris Petrie and given to compilers Doris Petrie and Joyce Jupp for their scrapbook A History of St. Mark's Nakusp 100 Years, published July 1998.
Purchase Print