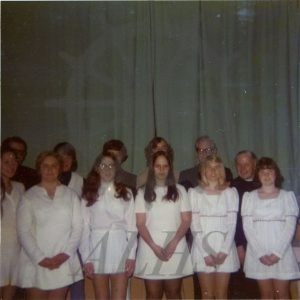 : 1999.009.1.39
:
:
: 1973-04-17
: 1970s, Berry; Rt. Rev. Robert Edward Fraser, church, confirmation, Ho; Hollis (Barrow), Jordan; Jennifer, Jordan; Leslie, Jupp; Jennifer, Lloyd; Bruce, Marshall; Gord, Maze; Mary Lou, Rowles; Rev. S.W., St. Mark's Anglican Church (1967-present), Stainer; Rev. J., Thorp; Grant, and Weatherhead; Joan
: Nakusp
:
1 colour photograph (8.8 cm x 8.8 cm)
:
Group posing at confirmation, St. Mark's Anglican Church (205 4th Street NW, Nakusp), 17 April 1973. TOP (L-R): Reverend S.W. Rowles, Gord Marshall, Grant Thorp, Bruce Lloyd, Right Reverend R.E.F. Berry (Bishop of Kootenay), Reverend J. Stainer. BOT: Hollis Barrow, Jennifer Jordan, Jennifer Jupp, Mary Lou Maze, Leslie Jordan, Joan Weatherhead. Photo given by Marilyn Marshall of Nakusp to compilers Doris Petrie and Joyce Jupp for their scrapbook A History of St. Mark's Nakusp 100 Years, published July 1998.
Purchase Print