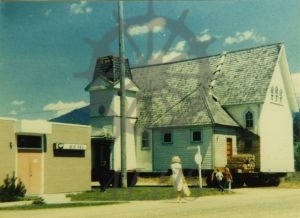 : 1999.009.1.35
: E50-7A
:
: 1967-07-
: Harry Murphy and St. Mark's Anglican Church
: 1960s, Arrow Lakes flooding (Columbia River Treaty), B.C. Telephone Co., building relocation, church, Francis Street, Grace Avenue, St. John the Divine Anglican Church, and St. Mark's Anglican Church (1967-present)
: Nakusp
:
1 colour photograph (17.4 cm x 12.6 cm), 1 b/w negative (35 mm)
:
St. John's Anglican Church (originally at East Arrow Park) being towed up Grace Avenue in Nakusp to serve as new St. Mark's Anglican Church at 205 Grahame Street, July 1967. Photo taken at intersection of Grace Avenue (3rd Avenue NW) and Francis Street (1st Street NW) in front of BC Tel building. Photo by Harry Murphy. Photo given to compilers Doris Petrie and Joyce Jupp for their scrapbook A History of St. Mark's Nakusp 100 Years, published July 1998.
Purchase Print