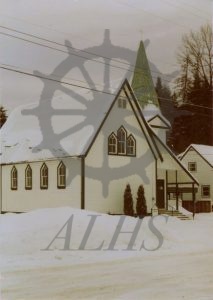 : 1999.009.1.32
:
:
: 1967-- - 1968--
: 1960s, church, Grahame Street, and St. Mark's Anglican Church (1967-present)
: Nakusp
:
1 colour photograph (8.7 cm x 12.4 cm)
:
New St. Mark's Anglican Church, 205 Grahame Street, Nakusp, winter 1967-1968, following the building's relocation from East Arrow Park the previous July, where it was St. John the Divine Anglican Church. Notes: 'The first service in St. Mark's (formerly St. John's) on the present site was December 21, 1967. Bishop Scott was present for the re-dedication of St. Mark's on January 4, 1968. Photo given by Marilyn Marshall of Nakusp to compilers Doris Petrie and Joyce Jupp for their scrapbook A History of St. Mark's Nakusp 100 Years, published July 1998.
Purchase Print