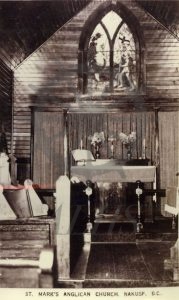 : 1999.009.1.3
:
:
: 1938-- - 1943--
: 1940s, altar, church, postcard, St. Mark's Anglican Church (1893-1968), stained-glass window, and Waterfield; Horace
: Nakusp
:
1 b/w postcard (8.8 cm x 14.3 cm)
:
Postcard, altar and window of St. Mark's Anglican Church (500 block, Broadway Street West), ca. early 1940s. Postcard by Canadian Post Card Co., Ltd., Toronto. Notes: 'Window solemnized June of 1922 in honour of Horace Waterfield, killed at Passchendaele, 1st war. Rev. M.C. Welsh, vicar.' Photo given by Joyce Jupp of Nakusp to compilers Doris Petrie and Joyce Jupp for their scrapbook A History of St. Mark's Nakusp 100 Years, published July 1998.
Purchase Print