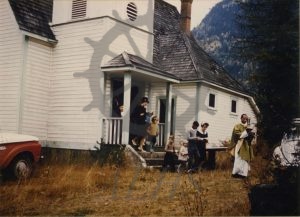 : 1999.009.1.27
:
:
: 1966-10-17
: 1960s, church, Richards; Rev. Fitzroy Ivan, and St. John the Divine Anglican Church
:
1 colour photograph (17.4 cm x 12.5 cm)
:
Reverend Fitzroy Richards leading procession of parishioners out of St. John the Divine Anglican Church on the occasion of its final service before its relocation the following year to Nakusp to becomes the new St. Mark's Anglican Church, East Arrow Park, 17 October 1966. Photo given by Joyce Jupp of Nakusp to compilers Doris Petrie and Joyce Jupp for their scrapbook A History of St. Mark's Nakusp 100 Years, published July 1998.
Purchase Print