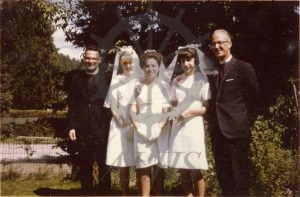 : 1999.009.1.26
: H10-8A
:
: 1965--
: 1960s, Aylesworth; Rev. Samuel, Broadway Street, church, Coleman; Rt. Rev. W.R. 'Bill', confirmation, Ehl; Darleen, Houdayer; Yvonne, Jupp; Eleanor, and St. Mark's Anglican Church (1893-1968)
: Nakusp
:
1 colour photograph (12.8 cm x 9.1 cm), 1 b/w negative (35 mm)
:
Group posing outside St. Mark's Anglican Church, Nakusp, 1965. L-R: Reverend Samuel Aylesworth, Darleen Ehl, Yvonne Houdayer, Eleanor Jupp, Right Reverend W.R. Coleman. Photo given by Eleanor Jupp to compilers Doris Petrie and Joyce Jupp for their scrapbook A History of St. Mark's Nakusp 100 Years, published July 1998.
Purchase Print