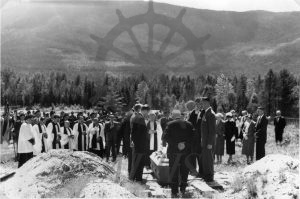 : 1999.009.1.21
: H16-5
:
: 1958-06-04
: Joyce Jupp and St. Mark's Anglican Church
: 1950s, Bryant; Stan, cemetery, Draper; James, funeral, Hope; Rev. E.R., Job; Rev. Fred, Johnson; Lawrence, Lang; Rev. Canon G.W., Lee; Joe, Mitchell; Mrs. Thomas, Mitchell; Rev. Canon Thomas, Nakusp Downtown Cemeteries, Resker; Most Rev. B.A., Rogers; Rev. Jack, Silverwood; Rev. Canon, Stanley; A.B.S. 'Art' Jr., Turner; Howard, Williams; Don, and Wyatt; Rev. T.D.
: Nakusp
:
1 b/w photograph (12.3 cm x 8.3 cm)
:
Funeral of Rev. Canon Thomas Mitchell, Nakusp Legion Cemetery, Nakusp, 4 June 1958. Clergy at middle left (L-R):Archbishop Fred Wyatt (Rossland), Canon G.W. Lang (Nelson), Rev. Jack Rogers (Trail), Rev. Fred Job, Rev. E.R. Hope (New Denver), Archbishop B.A. Resker. Officiate at centre: Canon Silverwood. Pall bearers: Stan Bryant, Joe Lee, Art Stanley, Lawrence Johnson, Don Williams, Howard Turner. Funeral director: James Draper. Attendees at middle right (L-R):Mrs. Mitchell, Mrs. Mitchell's sister, Canon Mitchell's daughter and her husband. Photo given by Canon R.G. Bray of Salmon Arm to compilers Doris Petrie and Joyce Jupp for their scrapbook A History of St. Mark's Nakusp 100 Years, published July 1998.
Purchase Print