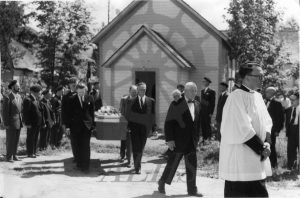 : 1999.009.1.20
: H16-3
:
: 1958-06-04
: Joyce Jupp and St. Mark's Anglican Church
: 1950s, Broadway Street, church, Draper; James, funeral, Johnson; Lawrence, Lee; Joe, St. Mark's Anglican Church (1893-1968), Stanley; Arthur Brinsley Sheridan 'Art' Jr., Williams; Don, and Wyatt; Rev. T.D.
: Nakusp
:
1 b/w photograph (12.3 cm x 8.3 cm), 1 b/w negative (35 mm)
:
Funeral procession carrying casket of Rev. Canon Thomas Mitchell leaving St. Mark's Anglican Church for Nakusp Legion Cemetery, Nakusp, 4 June 1958. Pallbearers (l-r):Don Williams, Art Stanley, Joe Lee, Lawrence Johnson. James Draper, Rev. T.D. Wyatt. Photo given by Canon R.G. Bray of Salmon Arm to compilers Doris Petrie and Joyce Jupp for their scrapbook A History of St. Mark's Nakusp 100 Years, published July 1998.
Purchase Print