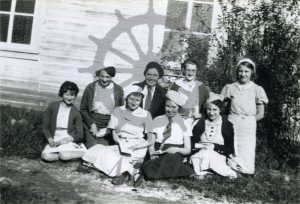 : 1999.009.1.15
: C28-13/F38-7
:
: 1936--
: 1930s, Anderson; Alice (Humphris), Angrignon; Vera (Butlin), Bradbury; Nellie (Humphris), church, confirmation, Dawson; Lily (Horrey), Elliot; Bea (Johanson), Johanson; Vera, Jupp; Joyce (Butlin), St. Mark's Anglican Church (1893-1968), and Sutherland; Nettie
: Nakusp
:
1 b/w photograph (13.0 cm x 6.9 cm), 2 b/w negatives (35 mm)
:
St. Mark's Anglican Church confirmation class posing on lawn beside church, Nakusp, 1936. TOP (l-r): Vera Johanson, Nellie Humphris (later Nellie Bradbury), Vera Butlin (later Vera Angrignon), Bea Johanson (later Bea Elliot), Alice Humphris (later Alice Anderson). BOT:Nettie Sutherland, Joyce Butlin (later Joyce Jupp), Lily Horrey (later Lily Dawson). Photo given by Joyce Jupp of Nakusp to compilers Doris Petrie and Joyce Jupp for their scrapbook A History of St. Mark's Nakusp 100 Years, published July 1998.
Purchase Print