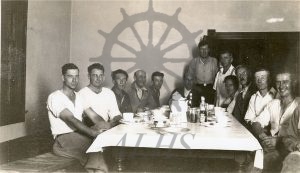 : 1998.024.34A
:
:
: 1938-07- - 1938-12-
: 1930s, Berard; Dan, Bowes; Herb, Brown; Ted, Gates of St. Leon, Gran; Johannes Arvid (Granjord), Harris; John Elmslie 'Jack', hot springs, hotel, Mayoh; Cyril, O'Neal; Mickey, Parent; Joseph Jr., restaurant, St. Leon Hot Springs, surveying, and Wetterstrom; Axel
: St. Leon
:
1 photograph : b/w ; 13.2 x 7.9 cm
:
Road survey crew at dining table, St. Leon Hot Springs hotel, ca. late 1938. L-R: Jack Harris, Arvid Gran, Dan Berard, ?, Joe Parent, ?, Herb Bowes, Mickey O'Neal, ?, ?, Ted Brown, Axel Wetterstrom. Photo sent to Betty Swanson by Axel Wetterstrom.
Purchase Print