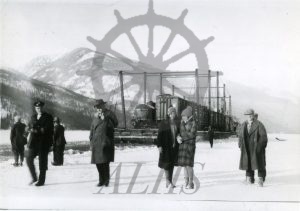 : 1997.002.80
:
:
: 1930-02- - --
: Jean Takkinen (Estate of Ed Vipond)
: 1930s, barge, Brown; Capt. Douglas, Canadian Pacific Railway, Clough; Velma, Grant; James, Greenwood; Elma, icebreaking, Nakusp & Slocan Railway, Reid; Walter, Slocan Lake, SS Rosebery, train, and tugboats
:
1 b/w photograph (17.8 cm x 12.9 cm)
:
Group standing on frozen ice as SS Rosebery tows Canadian Pacific (Nakusp & Slocan) Railway car barge in background while breaking through ice, Slocan Lake, February 1930. L-R: Capt. Walter Reid, Capt. Douglas Brown (superintendent, BC Lake & River Service), Velma Clough, Elma Greenwood, James Grant.
Purchase Print