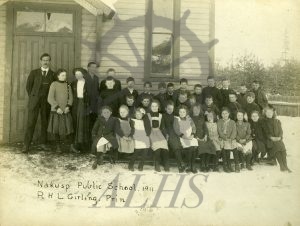 : 1997.002.69
: E40-8
:
: 1911-- - --
: Jean Takkinen (Estate of Ed Vipond)
: 1910s, Aalten; Henry, Anthony; Ed, Anthony; George, Bulger; Katherine, Calhoun; Inez (Carlson), Carlson; Ed, Cowan; Elwood, Davis; Germaine (Parent), deGans; Ethel (Aalten), deGans; Minnie (Aalten), Edwards; Wynne, Fyfe; Charlie, Fyfe; Nancy, Girling; R., Hakeman; Grace (Jordan), Herridge; Norman Archibald 'Archie', Hurry; Florence 'Flo' (Dilley), Jordan; George (younger), Knudson; Ethel, Knudson; Mary, Parent; Joseph Jr., Quance; Margaret, Quance; Richard Peter, Russell; Deneige 'Denny' (Parent), school, Sutherland; Bob, Sutherland; Frank, Sutherland; Margaret, Terrance; Dick, Vanderburgh; William 'Bill', Vipond; Ed, and Vipond; Jim
: Nakusp
:
1 b/w photograph (20.3 cm x 15.3 cm on 22.2 cm x 17.2 cm matte), 1 b/w negative (35 mm)
:
Class portrait in front of Nakusp Public School, 1911. TOP(l-r): R.H.L. Girling, Katherine Bulger, Deneige Parent, Bill Vanderburgh, Wynne Edwards, Henry Aalten, Ed Vipond, Charlie Fyfe, Joe Parent, George Jordan, Jim Vipond, Frank Sutherland, Archie Herridge, Eddie Carlson, George Anthony. MID: Bob Sutherland, Dick Terrance, Richard Quance, Elwood Cowan, Edward Anthony, ?. BOT: ?, Flo Dilley, Inez Carlson, Germaine Parent, Ethel Knudson, Margaret Quance, Minnie Aalten, Margaret Sutherland, Nancy Fyfe, Grace Jordan, Mary Knudson, Ethel Aalten.
Purchase Print