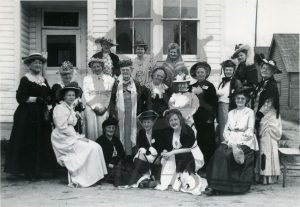 : 1997.002.67
:
:
: 1952-07-01
: Jean Takkinen (Estate of Ed Vipond)
: 1950s, 87 5th Avenue NW, Barrow; Edith (Pratt), Brown; Louise (Horsley), Canada Day, Cusick; Marion (Blair), Davis; Germaine (Parent), Donnelly; Mabel, Fowler; Ethel (Vipond), Harper; Vera (Hummon), Henke; Eva (Leverington), Hepworth; Maria, Johnson; Doris (Harvey), Johnson; Kate (Bailey), Jordan-Williams; Blanche, Morton; Lottie (Miner), Nakusp Diamond Jubilee, Nakusp Women's Institute, Parent; Alice Sr., Parent; Della (Leveque), Parish Hall/Small Hall, West; Rose, and women's institute
: Nakusp
:
1 b/w photograph (11.5 cm x 8.4 cm)
:
Nakusp Women's Institute members dressed up in costume for July 1st/Nakusp Diamond Jubilee celebrations, Small Hall (87 Pine Avenue North), Nakusp, 1 July 1952. TOP(l-r): Edith Barrow, Louise Brown, Eva Henke, Vera Harper. MID: Mrs. Mitchell, Lottie Morton, Mrs. MacIntosh, Alice Parent, Blanche Jordan-Williams, Della Parent, Germaine Davis, Mabel Donnelly, Ethel Fowler. BOT: Rose West, Kate Johnson, Doris Johnson, Marion Cusick, Maria Hepworth.
Purchase Print