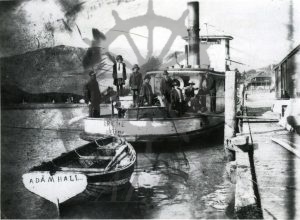 : 1997.002.58
:
:
: 1917-08-08
: Jean Takkinen (Estate of Ed Vipond)
: 1910s, Adam Hall (tug), Canadian Pacific Railway, Canadian Pacific Railway station (Arrowhead), Canadian Pacific Railway wharf (Arrowhead), lifeboat, Markstrom; Maggie, Sutherland; Osborne, tugboats, and Upper Arrow Lake
:
1 b/w photograph (17.8 cm x 12.8 cm)
:
Tug Irene docked at Canadian Pacific Railway wharf at Arrowhead, Upper Arrow Lake, 8 August 1917. Irene was carrying Markstrom family to Sidmouth, where they were relocating back to from Pingston following drowning death of Maggie Markstrom (b. 1911) after she tripped on driftwood at the Pingston mill wharf, struck her chest, and drowned. Note coffin on back of ship. Captain Osborne Sutherland at right. Irene was originally a tug belonging to the Yale Columbia Lumber Company. Lifeboat from tug Adam Hall tied to back of ship. Notes on rear: 'Len 60', beam 13' tons 29. Built at Nakusp 1903 by Yale Columbia Lbr Co (J Genelle). Sunk at Pingston Creek about 1920'.
Purchase Print