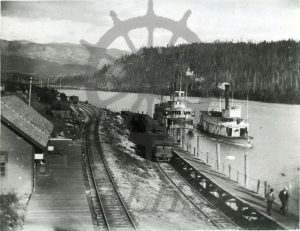 : 1997.002.34
:
:
: 1899--
: Jean Takkinen (Estate of Ed Vipond)
: 1890s, Canadian Pacific Railway, Canadian Pacific Railway station (Robson East), Columbia & Kootenay Railway, Columbia River, SS Lytton, SS Rossland, sternwheelers, train, and train station
: Robson
:
1 b/w photograph (16.1 cm x 12.8 cm)
:
Sternwheelers SS Lytton (right) and SS Rossland (left) docked at East Robson, Columbia River, c. 1899. Canadian Pacific (Columbia & Kootenay) Railway and station at left. Inscription on rear: 'S.S. "Rossland" at wharf. East Robson with passenger train along side from Nelson. S.S. "Lytton" coming up river'.
Purchase Print