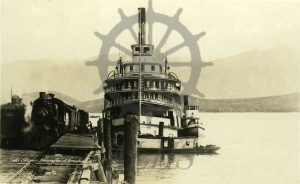 : 1997.002.2A.1
: G38-26
:
: 1920-- - 1931--
: Jean Takkinen (Estate of Ed Vipond)
: 1920s, Canadian Pacific Railway, Canadian Pacific Railway wharf (Arrowhead), postcard, SS Bonnington, sternwheelers, Tillicum (tug), train, tugboats, Upper Arrow Lake, and Yale (tug)
:
1 b/w postcard (14.0 cm x 8.8 cm), 1 b/w negative (35 mm)
:
Postcard of SS Bonnington docked at Canadian Pacific Railway station, Arrowhead, post-1911 (ca. 1920s). Inscription on rear: 'Bonnington, Yale, Tillicum - not Smuggler!' Postcard published by the Gowen, Sutton Co. Ltd., Vancouver.
Purchase Print