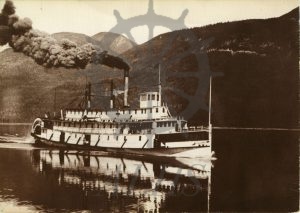 : 1997.002.23
:
:
: 1911--
: Jean Takkinen (Estate of Ed Vipond)
: F.A. Buchholz and Vogue Studio
: 1910s, postcard, SS Rossland, and sternwheelers
:
1 b/w postcard (17.7 cm x 12.7 cm)
:
Postcard of F.A. Buchholz photograph of SS Rossland sailing on the Arrow Lakes, 1911. Inscription on rear: 'The SS Rossland was launched at Nakusp on the 18th of November, 1897 and served the Arrow Lakes for the CPR. This trim sternwheeler could maintain speeds above 22 miles per hour and was the fastest steamer between Robson and Arrowhead. During the cold winter of 1916-1917, the Rossland sank at its mooring at Nakusp. Photo: Vogue Studio and B.C. Provincial Archives.' Postcard sent by Edith Barrow of Nakusp to former Nakusp resident Ed Vipond of Oak Bay, 14 September 1991.
Purchase Print