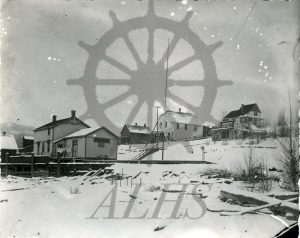 : 1997.002.16
:
:
: 1910-- - 1912--
: Jean Takkinen (Estate of Ed Vipond)
: Amos Burling and J.G. Craft
: 1910s, Bay Street, Canadian Pacific Railway, Canadian Pacific Railway station (Nakusp), CPR station agent house (Nakusp), Ehl store (Nakusp), F.W. Jordan store, Nakusp & Slocan Railway, store, and train station
: Nakusp
:
1 b/w photograph (12.3 cm x 9.8 cm)
:
Buildings along 500 block, Bay Street, Nakusp, 1910-1912 (misdated on back of photo as 1897). L-R: Canadian Pacific (Nakusp & District) Railway station, station agent's house, F.W. Jordan & Co. store, A. Nicholas confectionery (with Pay Roll tobacco advertisement; this is Charlie Ehl's store from 1906), F.W. Jordan house. Photo by J.G. Craft, South Slocan (later Nelson).
Purchase Print