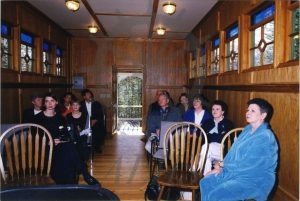 :
:
:
: 1999-04-
: 1990s, Anna Burnham Chapel, Burmeister; Sabine, Burmeister; Ulf, chapel, Hoffman; Eileen, Hoffman; Roy, Homis; Ed, Marshall; Ken, Marshall; Marilyn, Martin; Joy, Mense; Wulf, Mercer; Adrienne, Neidhardt; Bianca, Parent; Rosemarie (Portelance), wedding, and wedding anniversary
:
1 colour photograph (15.1 cm x 10.2 cm)
:
Looking back from altar toward wedding attendees, first wedding in restored Anna Burnham Chapel, Halcyon Hot Springs, April 1999, held for Eileen Hoffman and Roy Hoffman (40th anniversary re-wedding of sister and brother-in-law of Halcyon Hot Springs Village & Spa co-owner Lloyd Martin). Left (front to back): Adrienne Mercer (Arrow Lakes News reporter), Sabine Burmeister (co-owner) & daughter, Bianca Neidhardt & Wulf Mense. Right:Joy Martin, Rosemarie Parent, Ken & Marilyn Marshall, Ed Homis.
Purchase Print