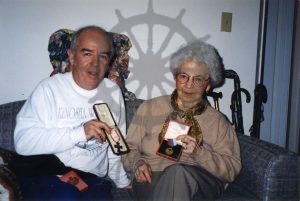 :
:
:
: 1999-01-13
: 1990s, Burnham; General Frederick 'Fred', Parent; Milton, Whitla; Jean, and World War I
:
1 colour photograph (15.1 cm x 10.1 cm)
:
Milton Parent of the Arrow Lakes Historical Society (left) & Jean Whitla (right) posing with medals awarded to her uncle-in-law General Fred Burnham for service to Montenegro, Whitla home at Penticton, 13 January 1999. Mrs. Whitla donated 6 of General Burnham's medals from World War I that had been salvaged by Burnham's nephew Robert Whitla to the new Halcyon Hot Springs Village & Spa. Burnham was the longtime owner of the original Halcyon resort.
Purchase Print