Written by Rosemarie Parent using archival information from the Arrow Lakes Historical Society and interviews with Edna Daney.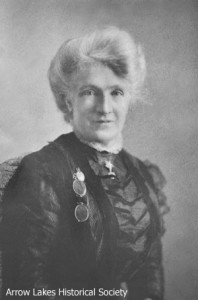 Trout Lake was once known not only for its rich mines but for the remarkable personality of a plucky hotel owner by the name of Alice Jowett. Born Alice Elizabeth Smith in 1853 in Bradford, Yorkshire, England, she learned the confectionery business as a young woman and in 1878 married Thomas E. Jowett.
In 1889, Alice lost her husband and decided to move to Canada with her three young children – Evelyn, Edith and John. They crossed the ocean to the East coast of Canada and traveled across the country by train on a colonist car for immigrants, where two or three families shared cooking facilities and made up their own beds to share costs.
The original plan had been to go to Pasadena, California but by the time she got to Vancouver she had run out of money. She first worked for a family named Edwards and soon had enough money saved to start her own business. Alice set up the first bake shop on Cordova Street in Vancouver and had great success in selling her wonderful pies, cakes, bread, and buns.
Hearing about the big gold mines of the Lardeau and feeling it was time for a change, Alice sold her bake shop and moved to Trout Lake in 1897. She bought the Trout Lake City Hotel, a two-storey part-log building, from John Bourke and soon became known for her excellent meals. The miners flocked to her little establishment.
Other hotels were being built in the mining towns of the West Kootenay to accommodate the prospectors who were coming from far and wide. One was the Windsor Hotel built in Trout Lake in 1897 by McLennon, Black and Co. A three-storey frame building with dormer windows, it was the finest in the Kootenays. It had hardwood floors throughout, a large billiard hall, parlours, and a reception room.
The Windsor was situated in front of Mrs. Jowett's small trout Lake City Hotel, and when the larger hotel came up for sale in 1907, she jumped at the chance to buy it. Later, in the 1930s, she tore down her original hotel and sold the lumber to a mine.
Under her management, the Windsor became well known not only for her delicious meals but for the fine china and linen tablecloths she used to serve her culinary delights.
By 1920, Jack Simpson had become her partner in the operation. Alice had many employees through the years. One of them was a young girl named Edna Lindholm, later Edna Daney. On her way to work at Halcyon Hot Springs in 1930, Edna heard that Alice was looking for someone to work at the hotel. The pay sounded better, so she went there instead. She worked for Alice for three years, living and tasting the life of the Lardeau where every day was a new adventure.
After Alice's hotel business was running smoothly and was well established, she caught the prospecting fever and began to hike among the hills searching for claims. The Foggy Day was her most famous mine. Alice had several other claims and made a trip every year to inspect them on horseback, right up into her 80s.
At the age of 92, Alice reluctantly decided she could no longer continue to operate the hotel. She sold out and moved to the Rest Haven convalescent home in Kelowna, where she celebrated her 100th birthday in 1953. She died in the spring of 1955. Her family took her ashes to the alpine basin she so loved and placed them in a cairn especially built to honour this great pioneer.
The stories of the Jowetts, Daneys and many others are included in the Arrow Lake Historical Society's fourth book Circle of Silver, which is about the history of the Lardeau are, featuring Trout Lake, Camborne and Ferguson. This book won for Milton Parent, author/historian, the Lieutenant Governor's award for historical writing in 2001.