Written by Rosemarie Parent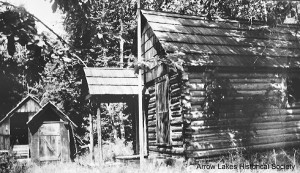 Three men were involved in the incident leading to the murder. Nels Demars was the first known white man in the Nakusp area. He had been involved with the Columbia Gold Rush of 1865, which lasted only two years. Demars has also prospected in the Caribou Creeks (Burton) as early as 1884 and, in 1894, due to rumours concerning his finds, many well-known men of Nakusp and district also placed stakes there.
The victim, John Cole, was the heir to a wealthy eastern family. He had taken up land about five miles from Nakusp which was later bought by Bert Herridge, MP for West Kootenay, at Shoreholme. Cole built a small house that is still there. Herridge used it as a library, study, and storage area.
Henry Rose, the accused, came from Ottawa and had at one time worked for the Genelle Lumber Co. He was a quarrelsome man and was generally disliked on the Arrow Lakes, where he trapped and prospected and cut poles with old Nels Demars. Although a competent woodsman, he was prone to bouts of excessive drinking. He was a husky man of 180 pounds, and was well known for his cruelty when intoxicated. This fact would weigh heavily against him.
Cole joined Demars and Rose in a contract to take out poles. There was some disagreement about the handling of the money received, and this may have been a factor in what happened later.
Lyle McDougald was in charge of the bar in the Grand Hotel in 1900. This building was across from the Leland Hotel, and burned down in 1925. The land is still vacant today. A Mr. Hudson leased the bar business from him and established an 'all you can drink' attitude. This was contrary to the laws in the province, which stipulated that no liquor was to be served to anyone who was already intoxicated. This also became a factor in the most notorious crime in the history of Nakusp.
The three men met at Nakusp, and Rose asked the other two to go to his home with him. Cole did not like Rose too well, and would only consent to accompany him if old Demars would go along. They loaded four bottles of liquor into Rose's rowboat. By this time, all were fairly well intoxicated. It was also very windy, and shortly after starting out, Demars turned the boat to shore because of the storm. Rose and Cole had started to argue. The story gets a little confusing after this, but the abnormal death that night – June 4, 1902 – of John Cole brought about a trial in Nelson that fall.
A condensed version dealing with the famous court case was outlined in the Nelson Daily News on October 3, 1902. "…The murder case of Rex vs. Rose reached the trial stage yesterday afternoon at the Nelson assize court. There is always more or less interest attached to cases in which the prisoner is playing in a game in which his life is the stake and the case of Rex vs. Rose is no exception to the rule…
"…The crime of which Henry Rose stands accused is the killing which took place in June last, a short distance from Nakusp by which John Cole, a rancher living along the Columbia River, lost his life, and in connection with which old Demars was frightfully beaten, having one eye knocked out, and so badly used up that it was considered doubtful at the time whether the old man could pull through to give his evidence at the trial…
"…In his opening of the case for the crown, W.A. MacDonald gave the outline of the frightful tragedy…Cole, Rose and Demars – the three actors in the drama – were more or less acquainted, left Nakusp together on the afternoon of June 4 to go down the lake on a visit to the Rose ranch. They had considerable whiskey aboard the boat on which they started out to make the journey, and the lake was rough…After they had traveled some two miles they decided to land. Cole and Rose got out of the boat first and Demars followed them…That Demars saw Rose and Cole squabbling; that he called out to them with the result that Rose rushed at him and struck him a blow which rendered him unconscious. When he recovered his senses, Demars' story was that he saw Cole's body on the ground. He then tried to light a fire, but Rose made some further remark, put out the fire, and struck him again. That same evening Rose returned to Nakusp and told a story which resulted in a party being organized to go to the scene of the fatality, where the body of Cole was found with old Demars in an unconscious condition with his head and face covered in blood. At the coroner's inquest later, it was found that Cole had received blows on the face and neck, and that his jaw had been broken, but the wound on the neck was considered sufficient to have caused his death…."
The trial continued the next day. In the Nelson Daily News on October 4, 1902, Leo E. Simmons – custom's officer in Nakusp – who had gone to the scene of the crime after Rose had come back to Nakusp for assistance was questioned. This is his version of what Rose told him: "…I left them here (using charts and diagrams of the murder scene) and was rowing down the lake when about a quarter of a mile out, I heard cries of murder. I came back as fast as I could and found Cole dead and Demars badly knocked up. I said to him, 'For God's sake, what happened, Nels?" He said, "Two men came out of the bush and beat us with clubs." Simmons on reaching the scene said to Rose, "That man has been choked," but Rose said, "No, I don't this so…"
Jim Christie, Frank Bourne, Constable Walter Scott, as well as Leo Simmons had accompanied Rose back to pick up Demars that night, because Rose said that he was in such bad shape that if they waited, he might be dead by morning. Scott decided Rose's story was a fabrication and promptly arrested him on a charge of murder.
Witnesses were called and stories were heard. Rose tried to make it appear that maybe Cole and Demars, who had both been drinking heavily, had quarreled and that Cole had punched Demars in the eye. That after that injury, Demars had retaliated with a club to Cole, breaking his jaw and crushing his windpipe. Dr. Carruthers gave his opinion of both men's injuries. He stated that Cole had the broken jaw before he died and that death was from the condition of his windpipe, which would have caused suffocation. He also stated that the severe blow to Demar's eye would have knocked him unconscious for several hours, not minutes as Rose was saying. Demars was an old man of 78 and the doctor did not think he could have killed Cole, who was 35, after the eye injury he had sustained.
The jury heard the evidence and returned at 2:30 a.m. of October 9 to give a verdict of guilty. Rose was sentenced to death and was hung on November 21 from a scaffold built in the Nelson jail yard. He claimed his innocence right to the end.
What really happened that day would always remain a mystery. Many felt Rose did not do the deed. However, the facts seemed to point to Rose as the culprit. He was the last to be hung in Nelson and was to be remembered for this fact.
Colonel Lowery of the New Denver Ledge best summed up the last moments of Rose's life. "…A life shortened by liquor, insensitivity and the law of the land…Henry Rose was hung in Nelson last Friday for the murder of John Cole last summer. He exhibited nerve to the last, and died game protesting his innocence. He has probably gone to heaven, as his spiritual advisor kissed him and said prayers over him just as the hangman dropped him to Jesus. It seems like refined cruelty to give a man a good breakfast, with a side dish of prayers, and then push him out on the air with a tightened neck-tie. But law is law, even if it has several traces of barbarism…."
Demars never did recover from the terrible beating he took at the hands of Henry Rose in 1902. His brother and sister came out from Quebec in 1908 to assist and comfort him. He was quite ill, and finally died December 2, 1908 at the age of 83. He was buried in an unmarked grave in the Catholic cemetery. He never made a large sum of money during his prospecting days. There is a story, though, of a map that he carried to his dying day. There was a place on Saddleback Mountain which yielded a little sack of nuggets each time Demars and his little dog disappeared from the trail leading up the mountain. He would not reveal the exact spot of this bonanza, and the map was never found.