Compiled by Milton Parent, archivist, of the Arrow Lakes Historical Society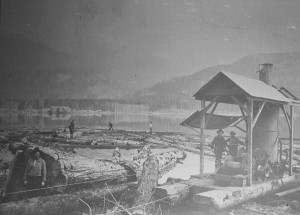 The mill in the background, owned by Cowan and Kinman at Trout Lake (picture of booming of logs) was dependent upon this donkey engine to bring logs from near the shoreline into the lake. Beautiful cedar so near at hand made this 1904 operation a virtual gold mine. E.T. Kinman had a contract for 10,000,000 feet of timber to be processed in the mill where 50 men would be employed.
Although better known for extensive mining in the early years, the Lardeau over the life span relied heavily on forest production to compensate for the lean times when the production of ore faltered.
Shingle mills were a mainstay at Trout Lake City. A large sawmill at Gerrard produced lumber all through the years of WW1 and into the twenties. Ferguson and Camborne had small mills at one time. In addition to lumbering, the manufacturing of cedar poles helped the economy at both ends of the lake. Down at Beaton several small mills made an appearance in more modern times, the various owners taking advantage of timber both towards Trout Lake and up the Fish River.
Many claims in the Lardeau are held by individuals and companies in hopes of someday resurrecting mining in the area. This is most dependent upon world prices and a relaxation of the laws governing mining generally.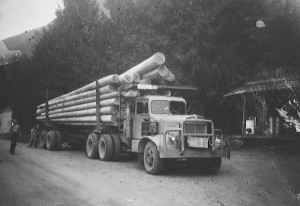 For loggers, the task is one of greater difficulty now that the lowlands have pretty much been clear cut. Higher and higher they go to find blocks of mature timber yet untouched by the Celgar crews of the sixties and seventies.
Forest fires, always a menace, were particularly bad in the early days. Methods and equipment of those times gave the men little chance to effect control over these blazes. Lightning storms and even the carelessness of a prospector assured many fine stands of timber would be lost each year. How long this region will continue to supply merchantable timber is dependent upon good forest practices and control of fires and pests.
One thing is sure, for over 100 years these two areas have provided mills with a wonderful source of wood materials.