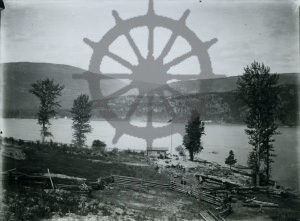 : 2016.013.3.2
:
:
: 1910-- - 1919--
: Terryl Allen (Estate of Marvel Milne)
: 1910s, farms, Littlewood; Leonard, and Lower Arrow Lake
: Applegrove and Edgewood
:
1 digital image (3735 x 2744 pixels)
:
Log house and farm on beach, Applegrove, ca. 1910s. Lower Arrow Lake at centre. This may be the Leonard Littlewood homestead. Village of Edgewood seen at top left across lake with W.J. Banting's original general store (white building) standing prominent.