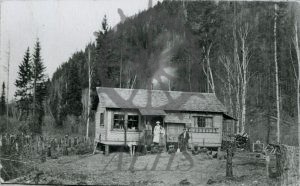 : 2016.013.1.60
:
:
: 1912-- - 1917--
: Terryl Allen (Estate of Marvel Milne)
: 1910s, Cameron; Madge (Colegrave), Colegrave; Bill, Colegrave; Frances, and Colegrave; Ralph
: Edgewood
:
1 digital image (3106 x 1928 pixels)
:
Colegrave family posing in front of their home at Edgewood, mid-1910s. Ralph Colegrave seated on bottom of stoop. Frances Colegrave in white dress at centre. Children are unidentified except for Madge Colegrave second from right and Bill Colegrave at far right.