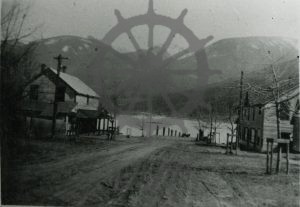 : 2016.013.1.51
:
:
: 1915-- - 1929--
: Terryl Allen (Estate of Marvel Milne)
: Arrow Lakes Hotel, Edgewood Avenue, Edgewood General Store, hotel, Inonoaklin Valley Road, Lower Arrow Lake, and store
: Edgewood
:
1 digital image (2979 x 2057 pixels)
:
View looking east down Inonoaklin Valley Road from intersection with Edgewood Avenue toward wharf on Lower Arrow Lake, Edgewood, ca. 1910s-1920s. (The second) Edgewood General Store on left. Arrow Lakes Hotel on right.