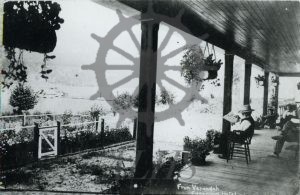 : 2016.013.1.14
: F10-14
:
: 1912-- - 1919--
: Marvel Milne and Terryl Allen (Estate of Marvel Milne)
: 1910s, Arrow Lakes Hotel, hotel, Lower Arrow Lake, postcard, Taylor (groundskeeper), and wharf
: Edgewood
:
1 digital image (2591 x 1682 pixels)
:
Trimming of postcard showing Mr. Taylor (groundskeeper) reading newspaper on verandah of Arrow Lakes Hotel overlooking Lower Arrow Lake, ca. 1910s. Edgewood wharf at top left. Postcard via Margaret Williams.