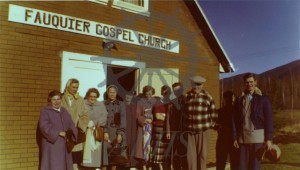 : 2016.005.2
:
:
: 1958--
: Annette Devlin and Bruce Rohn
: 1950s, Aspinall; Marie, Benz; Gertrude, Benz; Walter, Bradley; L., church, Detta; Amelia, Detta; Darlene, Fauquier Gospel Church, Heinzig; Mr., Switzer; Mary, and Switzer; Merv
: Fauquier
:
1 digital image (4218 x 2383 pixels)
:
Group posing in front of Fauquier Gospel Church, 1958. L-R: Aunt Amelia Detta, Marie Aspinall, Darlene Detta, L. Bradley, Gertrude Benz, Pastor Merv Switzer, Mary Switzer, Mr. Heinzig, Walter Benz. Amelia Detta, Marie Aspinall, and Darlene Detta are sisters.