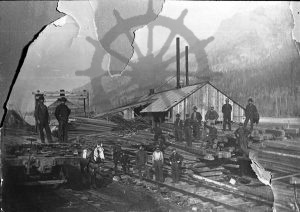 : 2014.003.511
: A30-7
:
: 1897--
: 1890s, Canadian Pacific Railway, Columbia & Western Railway, Columbia River, forestry, Genelle; Jack, Lower Arrow Lake, sawmill, and Yale-Columbia Lumber Co.
:
1 b/w negative (35 mm)
:
Mill workers at Genelle's mill at Wesley posing with stacked lumber astride rails. Jack Genelle at top right. Site is now occupied by by the Celgar pulp mill.