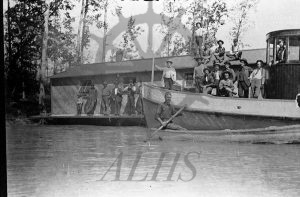 : 2014.003.509
: A30-5
:
: 1895-- - 1910--
: Fawn (tug), forestry, logging camp, P. Genelle & Co., Page; Joe, rowboat, tugboats, Upper Arrow Lake, and Yale-Columbia Lumber Co.
: Nakusp
:
1 b/w negative (35 mm)
:
Genelle Bros.' tug Fawn docked at floating camp house belonging to Yale Columbia Lumber Company, Nakusp. Fawn eventually sank at Wesley near Robson. Engineer Joe Page is in rowboat in front of Fawn.